<![if !vml]>
<![endif]>
<![if !supportLineBreakNewLine]>
<![endif]>
<![if !vml]>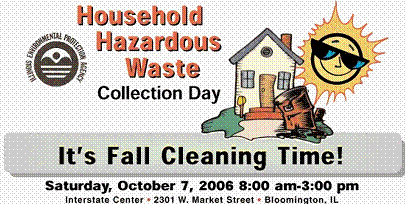 <![endif]>Safely dispose of your household and lawn chemicals and pesticides, paint products, fluorescent bulbs, lead acid batteries, fire extinguishers, etc. and/or recycle cell phones, eyeglasses, computers, and other electronics.
See www.ecologyactioncenter.org/ for more information or contact the University of Illinois Extension at 309/663-8306 OR www.mcleanextension.org OR contact the Ecology Action Center at 309/454-3169
<![if !vml]>
<![endif]>
<![if !vml]>

<![endif]>              Chili Supper
The Towanda Fire Department is holding a Chili Supper at the Towanda elementary school to kick off Fire Prevention Week.   A raffle will be held (tickets $1 each or 6/$5) to support the new ambulance transport.  There will be a 'Survive Alive' trailer for children, photo with firefighter in full gear, coloring book, freebees.
Saturday, Oct.        Cost: $5, children under 3 eat free
<![if !vml]>

<![endif]>
           Fish Fry
<![if !vml]>

<![endif]>
The Towanda Legion is hosting a Fish Fry at the legion hall, Hely Street, on the south edge of town (just before the curve to the Towanda Barnes blacktop). The menu includes Walleye or Catfish, cole slaw, baked beans, dessert and drink.
  Carry outs are available. 
  Friday, October 13                 Cost: $7.00
<![if !vml]>

<![endif]>
Halloween Party
<![if !vml]>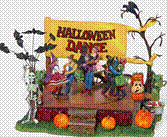 <![endif]>
The Towanda American Legion is hosting a Halloween Party. This event is open to the public.  See any Legion / Auxiliary / SAL member for your ticket. The cost is $2.00 in advance or $3.00 at the door. Costumes for a contest are encouraged but not required. Come for the decorations, stay for the dancing.
Saturday, October 28th at at the legion hall
<![if !vml]>

<![endif]>
Halloween Costume Contest
<![if !vml]>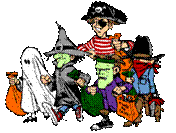 <![endif]>
The Towanda Holiday Committee is hosting their annual Costume Contest.  This event is for newborns to 5th graders. All participants are encouraged to arrive at , the judging will begin at . All children in a costume will receive a treat bag.
Sunday, October 29th, at the Community Building.
<![if !vml]>
<![endif]>
Indian Creek Fall Work Day
 by Jim Russell, Common Areas Chairman
The Indian Creek fall volunteer day will be Saturday, October 28, starting at .  A rain date will be determined if necessary. We'll meet at the bridge for coffee, juice and doughnuts and to get organized. There's plenty to do so please join your neighbors in contributing to the upkeep of our common areas.   Please let me know (728-8042 or jf3b@frontiernet.net) if you're planning to attend.
Honeysuckle control - Small ones can be pulled by hand or loosened with a shovel and pulled. Larger ones can be cut with loppers and the cut ends painted with 20% Roundup.  The really big ones need to be cut with power tools and painted with 20% Roundup.  I'll bring a brush cutter and the Roundup.
Bird houses - Remove old nesting material from the birdhouses in the nature area and along Eastwood.  Use gloves for this and pliers to open the boxes. Also there are 2 houses that need some repair.  This could be a good activity for kids, with adult supervision.  A step ladder might be needed to reach some of the houses.
Highway cleanup - Pickup litter along Rt 29 from Hudson road to the Interstate.   Indian Creek Association has taken on this worthwhile task for many years. This is an adult only activity.
Soccer goals - The soccer goals are not being used and are in bad shape. They can be disassembled and removed.
Please let me know if you have other ideas for this or future volunteer days.
<![if !vml]>
<![endif]>
Bird Seed
<![if !vml]>

<![endif]>
The JWP Audubon annual bird seed sale is underway.  Offerings include sunflower, safflower, niger, millet, cracked corn, whole corn ears, suet cakes, and two seed mixtures.  You can get an order form from the web site at www.jwpaudubon.org, or contact Sue Arnold for a paper copy.  Orders are due by Oct. 7.  Pickup dates are Nov. 3 & 4.
<![if !vml]>
<![endif]>
Towanda Library News (on the web at towandalibrary.org)
Wed., Oct. 11:  Friends of the Library meeting,
The Friends of the Library will meet from , at the Mogill home, 18 Bent Tree Lane.
Wed., Oct. 11:  Towanda Reads The DaVinci Code, 
The Towanda Reads book discussion of The DaVinci Code  has been rescheduled to Oct. 11 and will meet from , at the Mogill home, 18 Bent Tree Lane.
Wed., Oct. 18:  Scottish Slideshow, 
There will be a slideshow featuring Glasgow, Edinburgh and the Scottish Highlands by Library Director Mary Williams & State Farm travel planner Jim Ferrier, at the library.
Thurs., Oct. 26:  Fright Night, 
Scary stories and creepy crafts for 3rd through 5th graders, only.  Advance registration is required, by stopping by or calling the library at 728-2176.  Parents may drop the children off at and pick them up at .
<![if !vml]>

<![endif]> 
Story Time for 3 – 5 year olds.
An - Wednesday morning preschool story time is provided for 3-5 year-olds and is intended to help socialize and prepare your child for kindergarten. These sessions are great fun for the children and many grown-ups in this area have good story hour memories from our library! Please call 728-2176 to register your child.
<![if !vml]>

<![endif]>
  Autumn Celebration at Sugar Grove Nature Center
<![if !vml]>

<![endif]>The Sugar Grove Nature Center is hosting an autumn celebration at the center, on Saturday, Oct. 21, .  It will feature music, wagon rides, storytelling, a Native American encampment, blacksmith and woodturning demonstrations, crafts, pumpkins, good eats, plenty of kids' activities and much more.  Take the Shirley exit on RT 55 south of Bloomington and turn right and then left onto old Route 66 to Funks Grove and follow the signs.  FREE
<![if !vml]>

<![endif]>
Gregory's Cookie Service
<![if !vml]>
<![endif]>Starting October 1st and running through the holidays, Gregory Mason will make delicious cookies for sale. Call ahead to place your order and you will receive fresh baked cookies, delivered, in a nicely wrapped box, to your front door.  Cookies are $4.00 a dozen. Chocolate chip, oatmeal raisin, Swedish tea cakes, sugar, peanut butter, and more are available for purchase. 
Let Gregory help you with your holiday baking! Call him at 728-8008 or 846-2000.
<![if !vml]>
<![endif]>
Welcome New Neighbors
<![if !vml]>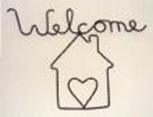 <![endif]>Welcome new neighbors, Bob, Patti, and Tyler Walsh, who moved into a log cabin home on Bent Tree Lane from the Bloomington area.  They are originally from Pontiac, where Bob's business as an industrial and institutional plumbing contractor is still located.  Patti had driven through Indian Creek 14 years ago and fell in love with the log cabin home tucked into the woods.  When the house appeared on the market this year, they bought it.  Patti, a former florist, is now a stay at home Mom for Tyler, age 14.  The Walsh family also includes three adult daughters and six grandchildren.  Bob enjoys reconditioning World War II jeeps, is a fisherman, and is a volunteer fireman, currently in Pontiac.  Patti enjoys interior decorating and horseback riding out at Dawson Lake and on vacations, as on their recent vacation in the beautiful Colorado mountains.  Tyler attends Calvary Baptist Academy in Normal, and enjoys fishing, horseback riding, animals, and cars.  The family was recently joined by Payson, an adorable twelve week old King Charles Spaniel puppy.  In addition to the beauty of the woods, the Walshes have been struck by the friendliness of the neighbors here in Indian Creek.
<![if !vml]>
<![endif]>
Nature Club
<![if !vml]>

<![endif]>
The kick off meeting for the Nature Club was an enjoyable presentation by Angela Smith, director of the Sugar Grove Nature Center.   She spoke on how to nature scape your yard to not only enjoy the beauty and easy care of native plants, but also to provide habitat for the small animals, birds, butterflies and dragon flies that can turn your own yard into a delightful nature preserve.   An especially useful tip for Indian Creekers was the advice on how to eradicate garlic mustard.  Angela suggested spraying the garlic mustard with Roundup in February, when the low growing garlic mustard is the only green showing at that time of the year.  The Roundup will not affect dormant plants.
It was decided that future meetings of the nature club will be on the 4th Tuesday of most months.  The next meeting will be on Tuesday, October 24, at at the Mogill home.  The topic will be how to attract and identify the many birds that make their homes in Indian Creek.  There will be no meeting in November or December, but monthly meetings will resume in January.
<![if !vml]>
<![endif]>
Towanda Area Seniors
<![if !vml]>
<![endif]>The Towanda area Seniors group meets monthly, the second Wednesday of each month, at at the Towanda community center.  The next meeting is Oct 11.  Bring a dish to share; meat and drinks will be provided.  Donations are accepted, but not required.  Questions? Call Beverly Meginnes, 728-2769.
<![if !vml]>
<![endif]>
Indian Creek Community Garden
<![if !vml]>

<![endif]>There has been discussion among Indian Creek residents about the possibility of creating a community garden in the common area called the 'soccer field'.  One of the neighbors has generously offered to supply water for the garden. 
Anyone interested in participating in a community garden should contact Grounds Chairman, Jim Russell, (728-8042 or jf3b@frontiernet.net) or Helen Mogill (728-2048 or hmogill@frontiernet.net). If there is sufficient interest, the garden will be planned by the Nature Club.  However, the labor and expense will need to borne by those using the community garden.
<![if !vml]>

<![endif]>
Towanda Elementary PTO News
by Karen Showalter
Campbell's now needs the UPC code from soup cans, instead of front labels. Please send whatever front labels you may have collected by mid Oct. and from now on clip UPC codes.  Collection boxes are located in the back hallway of the school and at the public library. 
Cell phones, PDA's and used ink printer cartridges are being recycled for money. Collection box is located in the back hallway of the school. Put used cartridges in a Ziploc type bag. 
Office Depot, Meijer and Target offer money back to schools with qualifying purchases.  At Target you need a target card to participate in this program. Designate Towanda as your school.
Next SCRIP order is due 9 am on Oct. 10th.  You can either call Therese Smith 728-2930 to order or place an order at the table in the school at on Oct. 3rd.
Kathryn Beich Fundraiser runs Oct. 4 - 16.  Delivery of items will be Nov. 13th. All money goes to benefit the school and our kids for weekly readers for K-5; speakers and assemblies; Deck the Halls night; activities and treats for Young Authors, Spring into Reading, VIP Day and Play Day; Challenger Learning Center field trip for 5th grade; and a classroom teacher allotment for miscellaneous teaching expenses ($15 per student in their classroom) just to mention a few.
The annual Halloween Costume parade will run from to on Oct. 31.  The route is as follows:  north on East St., east on Adams St., north on Taylor St., west on Monroe St., south on Madison St., and then east on Fremont St. ending at the school.  Watch for the fire truck leading the parade!
<![if !vml]>

<![endif]>
All Terrain Vehicles
<![if !vml]>

<![endif]>At the subdivision picnic, a resident questioned whether there was a subdivision policy on the use of All Terrain Vehicles (ATVs) on common grounds.  A broad member thought he recalled that home owners at a past subdivision homeowners meeting had voted to not allow the use of ATVs in the common areas.  The board secretary is checking past records to see if this is the case.
<![if !vml]>
<![endif]>
Towanda Historical Society
by Gail Ann Briggs
The State of Illinois/Secretary of State has awarded the Towanda Area Historical Society/Towanda District Library a Digital Imaging Grant in the amount of $19,141.00.  This amount is the total that was requested in the application we submitted in mid-May.
The grant committee of Mary Pasek Williams, Director of the Towanda District Library; Ottilie Womack, Pat Pulokas, Mary and Lyle Merritt, Jack Jenkins along with me will be spearheading the work to implement the grant over the coming months.  Please watch for ways in which you can be involved in this significant undertaking in our small community.
A raffle sponsored by Kick's Bar & Grill of a 1982 Honda Three-Wheel San Francisco Policy Motorcycle will benefit the Society.  $1,000 from tickets that are on sale at $20 each and available at Kick's and from TAHS supporters will be given to the Society.  Only 190 tickets will be sold so get yours while you can.
The Society meets on the 4th Tuesday of each month at the Towanda Community Building at - Next is October 24.
<![if !vml]>
<![endif]>
Pet Care
<![if !vml]>

<![endif]>
Trevor Mason, 728-8008, would like to offer his service for pet care.
                                          <![if !vml]>
<![endif]>
Directories
A Towanda Community directory and an Indian Creek subdivision directory are included with this newsletter.  Please contact me, Helen Mogill, at 728-2048 or hmogill@frontiernet.net if you have any corrections or additions.
<![if !vml]>
<![endif]>